Back in January, I celebrated 10 years of Pop.Bop.Shop. At that time, several readers suggested that I share Top 10 lists of my best discoveries from the past decade. I loved the idea so much, I decided to publish a new list every month in 2019. In case you missed any of the earlier round ups, you can catch up here:
This month, I'm excited to share my recommendations for a memorable trip to Martha's Vineyard. Whether you go as a day trip, for a weekend, or for the entire summer, I hope to arm you with a list that helps you make the most of your time on the island. 
We're going to do this David Letterman-style, starting with #10 and working our way to #1. 
10. Black Dog Tavern (Vineyard Haven)
Black Dog is one of the most iconic places on the Vineyard, and its fame has extended thanks to a line of impossible-to-resist merchandise! 
The restaurant is just steps from the Vineyard Haven ferry stop, making it super easy to hop off the boat and head straight to lunch or dinner. 
The tavern offers a great cocktail menu (I went with a Bloody Mary during my visit), and tasty food selections too. 
We had the blackened burger and the quinoa patty, both delicious and served with mountains of steak fries. 
The best part of the dining experience is the view. How can you beat this? 
Of course we went into the merch shop after lunch and I walked away with a sweatshirt that has become an absolute wardrobe staple. I couldn't find my exact style online, but these two (Hadley Cowlneck and Chappy Cowlneck) and very similar. 
9. Flying Horses Carousel (Oak Bluffs) 
I grew up going to the Paragon Park Carousel in Hull, MA, so whenever I see one, I have to take a spin. The Flying Horses Carousel in Oak Bluffs is the oldest in the country, opening in 1876. 
It costs $3 dollars for a ride. While you're waiting in line, you get to observe the special feature of this particular carousel - the quest for rings. Before each ride begins, the staff fill two wooden arms with rings and as you ride around, you try to snag as many as you can. During each ride there are two brass rings hidden in the lot and if you catch one, you win a free ride. 
We were excited to have the experience, but for the little kids on the ride, this was a serious competition! Look how many the girl next to me was able to grab: 
The carousel is super close to the Oak Bluffs ferry stop, so if you arrive to that pier, this is a fun place to begin your vacation. 
8. Aquinnah Lighthouse (Aquinnah) 
There are many lighthouses on the island, but there is only one set above stunning, red clay cliffs, and that's in Aquinnah. Though the day we went it was a bit foggy, the natural beauty of the area was still undeniable. 
While at the lighthouse, you can enjoy a meal at Orange Peel Bakery & Cafe or Cliffhangers - both tiny and adorable spots. 
7. L'etoile (Edgartown) 
There is one reason people go to L'etoile, and that's for the "Startini." 
The drink is citrus vodka, cointreau, lime juice, pomegranate purée and prosecco. 
The restaurant is located on the first floor of the Sydney Hotel in Edgartown and it has a wonderful front porch where you can sip your cocktail and enjoy the people watching. 
If you have a late dinner reservation, beginning the evening at L'etoile for a drink is the perfect way to soak up the magic of Edgartown. 
6. Quansoo Beach (Chillmark) 
I was looking forward to going to the beach in Martha's Vineyard, because I've spent so much time on other New England beaches and I wanted to see how it would compare. Quansoo is one of the quietest beaches I have ever set foot on. 
We went in the late afternoon, and used the time to walk, rather than set up a compound for the full day.
It was so peaceful. I felt like I could have stayed there forever.  
5. Makonikey Beach (West Tisbury) 
Now, I have to preface this by saying I had the pleasure of experiencing this view at someone's private home, so while this identical spot isn't open to the public, you can still access this beach. 
During my most recent Vineyard visit, I had the honor of attending a happy hour at a friend's parents' home in West Tisbury.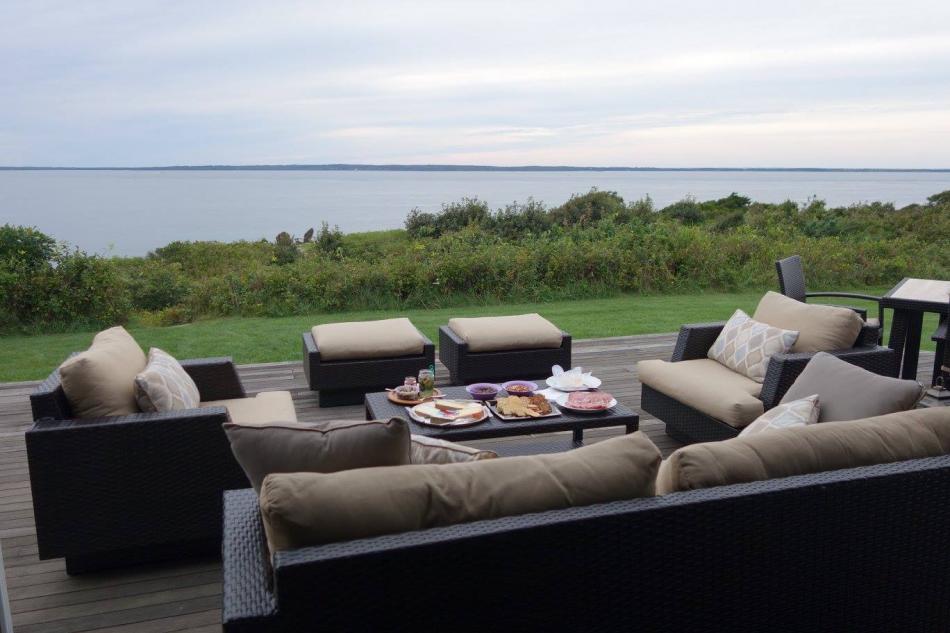 In addition to the wine and cheese, we also got to take in one of the most exquisite views I have ever seen in all 34 years of my life. 
Mother Nature also gifted us a multi-colored sunset that night too. 
4. Harbor View Hotel (Edgartown) 
If you're at the age where you have a lot of friends getting married, chances are you have been to the Harbor View Hotel in Edgartown, or at least seen pictures of it. The front porch is lined with rocking chairs, the ideal spot to order a glass of wine and watch the sunset. 
I took this photo from one of those rocking chairs: 
Rather than stay at the hotel (which is quite pricey), look up the time for sunset, and plan to snag one of those rocking chairs about 30 minutes before. You won't be sorry! 
3. Chesca's (Edgartown) 
We had many epic meals during our Martha's Vineyard trip two summers ago, but my favorite was dinner at Chesca's. 
The front porch has a row of rocking chairs (are you sensing a theme here?), the perfect place to wait for your table or enjoy a pre-dinner drink. 
We were a party of six, and every single person loved their appetizers and entrees. 
Two friends took advantage of Chesca's amazing (and if you ask me, genius) menu special called the bento box. Bento boxes are most commonly offered at Japanese restaurants and allow diners to sample many things on one tray. 
At Chesca's, they've adopted this approach and you can order a soup (clam chowder or Tuscan white bean), salad, mashed potatoes, sauteed veggies and a choice of protein (salmon, shrimp or chicken). This way, if you kind of want clam chowder, but you also want a salad and maybe you're also intrigued by a piece of fish, you can have every single one of those menu items. It's brilliant. ​
2. Gingerbread Houses (Oak Bluffs) 
You cannot go to Martha's Vineyard without making time to wander through the Gingerbread Houses in Oak Bluffs. 
Though it seems impossible, people actually do live in these! 
They are too cute for words, and often have very charming details. 
I had the best time walking alongside each one of these precious cottages. Strolling through this community is awe-inspiring for grownups and kids alike! 
1. Edgartown Lighthouse (Edgartown) 
Of all the places I have gone on the Vineyard, the one that took my breath away was the Edgartown Lighthouse.
From the street, you walk down a short path to the sand and poof! You're right there. 
We arrived just as the sun was beginning to set. We sat right on the beach, taking in our surroundings. From that spot, you can watch the boats go back and forth to Chappaquiddick.  
We learned very quickly that the lighthouse (and the beach) is a popular photo shoot spot. We saw a Vineyard Vines-clad family with a photographer, a newly engaged couple with two camera people, and a group of 10 high school girls snapping up a storm. 
When in Rome, right? 
There you have it! My Martha's Vineyard Musts. 
Tell me, what else what you add to the list?