Yesterday we talked about the Oscar red carpet fashions and today I want to share with you all the festive details on my annual viewing party. 
I mentioned this yesterday, but other than my birthday, the Oscars really are my favorite night of the year. As soon as the broadcast ends, I start planning for next year's soiree. I love how excited everyone gets for the evening, the anticipation around who will have a "major" red carpet moment (as Rachel Zoe would say) and whose career will be changed by that little gold man. 
I really do plan for this event all year. I take inspiration from all kinds of places. I am constantly looking for fun ideas that involve gold or red decor. For example, gold is really popular around New Years, red is really popular around Valentine's Day and Christmas and specialty cocktails, well, those are always in season. I keep a Pinterest board of all my ideas, which I add to all 12 months of the year. 
This year I kicked off the event by sending a digital invitation via Paperless Post. I use Paperless Post all the time for my clients so I thought I would add a true sense of occasion to the evening by sending a formal invite. These cost me $6 dollars to create, customize, send and track RSVPs.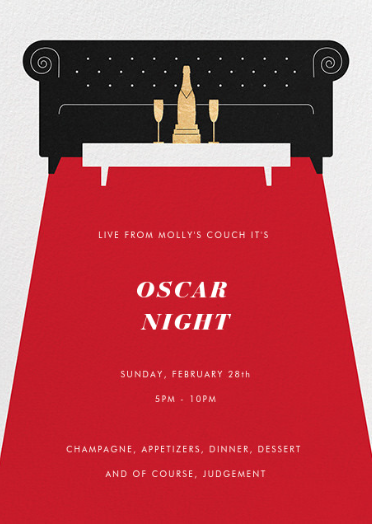 The day of the party I began decorating from the front of the house and then worked my way backward. I like guests to arrive and immediately feel excited, so I always put something on the front door. For this year's party it was a giant Oscar envelope that said, "And the winner is . . ." 
Once the front door is open, I keep the energy going by doing something with real wow factor in the entryway. In past years I've set up popcorn bars, DIY candy buckets and huge floral arrangements. This year I decided to use my entryway table as a bar cart. I honestly don't know why that never occurred to me before. 
On the left side I had Prosecco. I put out a set of gold flutes that we gifted to me by a friend. They are way too fancy for a regular dinner party, but absolutely perfect for Oscar night.
On the right side I set up the signature cocktail for the night, The Leo. I created this drink myself, food pun description included! Since everyone was buzzing about Leonardo DiCaprio possibly winning his first Oscar, it felt only right. 
With drinks in hand, guests could move into the living room. On the ottoman I placed gold coasters (for the cocktails, of course) and a small concession stand - M&Ms, Swedish Fish, Reese's and Gummi Bears.
Behind the candy, I added a bouquet of red roses for a touch of elegance. 
In the dining room I couldn't wait to debut a new gold vase I bought at the Crompton Collective back on MLK weekend. I spotted it, knew it would be perfect for Oscar night and tucked it away for safekeeping. 
I built the whole tablescape around this gold vase. 
I am obsessed with paper goods and flipped when I found this geometric gold pattern at Essentials in North Hampton, MA during my Western MA road trip. 
The last room to decorate was the bathroom. Many people overlook the bathroom, but it's the one room everyone visits over the course of such a long night! To make people laugh, I put a press pass sign on the door. 
Inside I decorated all surfaces.
I put red stones in the sink for a pop or color and I set out star-shaped soaps. These were my favorite touch! 
I also placed two small bouquets of red roses. All of the roses for the night came from Star Market. 
With the house decorated, all I had do was wait for the girls to arrive. 
When the ladies poured in at 5:00pm, we began our red carpet viewing over cheese fondue made by my friend Stephanie (Chef Steph, as we like to call her). You can check out her recipe and step-by-step instructions on her blog. 
To dip in the fondue we had two kinds of bread (roasted garlic and dark rye), green apple slices and broccoli florets. 
For the main course, Chef Steph cooked up a delicious pot of tomato and fontina risotto, a recipe we learned in our risotto class at Dave's Fresh Pasta in Somerville. 
I don't know if it was the cheese, the onions or the wine, but man was that delicious! 
Just after Chris Rock's monologue, we were ready for dessert. On my favorite red, Oscar plate we shared chocolate eclairs and coconut cupcakes. 
A friend also brought a beautiful fruit salad which I forgot to snap! 
Most of the girls made it until about 9:00pm and then people started to fade. I stayed up until the very last award because I just had to know! I was overjoyed for Leo and of course for the cast of "Spotlight." 
Now that this year's Oscar celebration is over, I must admit, I feel a bit sad. The next awards show isn't until September and the 2017 Oscars feel impossibly far away. 
Are you an Oscar junkie? Do you have an annual viewing party tradition?