For the last several years, my friend Stephanie and I have planned a winter escape to a tropical destination. We find it helps to keep us motivated during the long, cold, snowy months here in Boston. Last year, we jetted to The Shore Club in Turks and Caicos. This year, we decided to go back to the Bahamas.
We had been to the Bahamas together twice before, staying at Atlantis both times. Steph did a lot of research for this year's getaway, and recommended we try a new resort called Baha Mar. 
Baha Mar is actually three separate hotels that share amenities - beachfront, pools, restaurants, and the casino. You can choose to stay at the Grand Hyatt, the Rosewood or the SLS.
We booked our room at the SLS. We started following @slsbahamar on Instagram as soon as we'd confirmed our reservation, and I couldn't wait to see what it would look like in real life. 
We flew from Boston to Nassau on a non-stop jetBlue flight (shout out to my favorite airline!). It took about 30 minutes to get through passport control, and then we headed straight to the Baha Mar welcome desk. The warm and friendly receptionist greeted us, and walked us outside to the Baha Mar shuttle. It was a short, ten-minute drive to the resort. 
As we climbed up the driveway to the SLS, I could already tell this place was going to be beautiful. We hopped out, and the bellman took our bags while we checked in. We arrived at 2:30pm, and check-in wasn't until 3:00pm, so we were holding our breath, praying our room would be ready. The woman behind the desk said, "You must have connections here, because your room is all set. You can go right up." 
We walked through the lobby bar towards the elevators. How cool are these light fixtures? It looks like a cloud is floating over the bar. 
Our room was on the eighth floor. When we opened the door, we both gasped. We couldn't believe how spacious it was. 
Our room had two queen beds, which were insanely comfortable. At home, I sleep on a Temperpedic mattress, so I tend to be a little Princess and the Pea about hotel beds, but this one was heavenly. 
I was obsessed with the mural on the wall behind the headboards. It gave the room a tranquil, almost spa-like feeling. 
Opposite the beds, there was a small coffee table, which served as the perfect place to drop our stuff every afternoon when we came in from the beach or the pool. 
Our room also had a bar cart. On one end was the mini fridge (notice how all the bottles of booze are lined up in pairs, like the Noah's ark of shots), and the other side offered an ice bucket, a cocktail shaker and some very fancy goblets. 
Over the bar cart was the TV, which had a welcome message with our reservation name on it. I find that level of personalization to be just delightful. 
The bathroom was unlike anything I've seen before. It was this rainbow color that almost looked like a hologram. 
Though the colored glass was incredibly unique and cool, the bathroom itself didn't allow for any kind of privacy. It didn't have a real door. Where the door should be, there was a cotton shower curtain you could pull closed. Inside the curtain, there was the sink, a shower / tub combo, and then the toilet. The toilet was behind a pane of glass, not a proper door. The glass didn't come all the way the floor or the ceiling, allowing for every movement or noise to be heard. 
Cloud bed aside, the best part of our room was the balcony. It got sun from about 5:00pm until sunset, letting us savor the final hour of vitamin D each day. 
One of the perks of staying at the SLS is that there is one swimming pool at the resort that is for SLS guests only. When you exit the hotel, this pool is directly in front of you, down a flight of stairs that just begs for you to stop, pose and snap a picture.
This pool is a candy-colored dream. 
Not only does each lounge chair have a cushion that makes it feel more like a day bed, but this pool offers a fantastic food and drink menu, including a frozé cocktail and the most delicious truffle fries I have ever eaten. 
You can also reserve cabanas at the SLS pool - either in advance of your arrival or via the iPad in your hotel room. We chose to save our cash for drinks. 
The first day we sat at this pool, we were about ten chairs away from Robyn and Juan Dixon from The Real Housewives of Potomac. I have watched every single episode of that show and I was freaking out! I kept trying to concentrate on my book, but I just couldn't. At one point, we were sitting on the edge of the pool and Robyn swam right by us. I would say she was about six inches away from me. I am pretty sure my heart stopped. 
As you walk beyond the SLS pool towards the Drift swimming pool, you pass this adorable duck sculpture. 
Drift is where we spent a glorious, sun-soaked day, alternating between reading our books and jumping into the pool to cool off. 
This pool tends to attract a lot of families with young kids, so prepare for a serious noise level. 
Behind the Drift pool, and right before the ocean, is Dean's Blue Hole. Daredevil kids love this pool because it has a water slide and make shift caves to explore. In a surprise to no one, we never sat here. 
After Dean's Blue Hole, there's a row of cabanas that you can reserve for the day. We were both perplexed by the location of these because they weren't actually at a pool or the beach, they were right in between. Seems like a giant waste of money!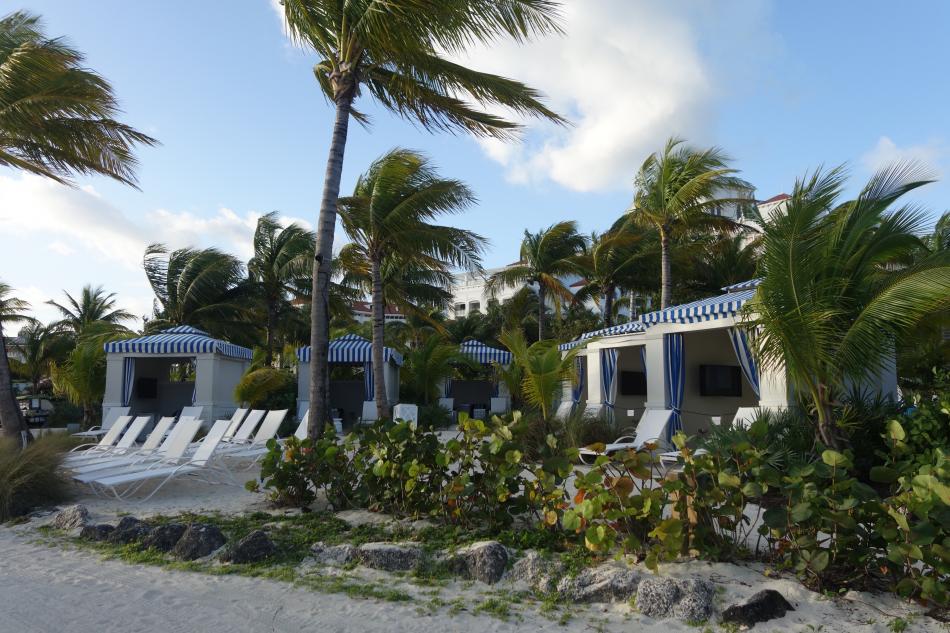 The beach front at Baha Mar is gorgeous. Unlike New England beaches, the sand here is white and soft beneath your feet. The water is the most incredible, electric blue color.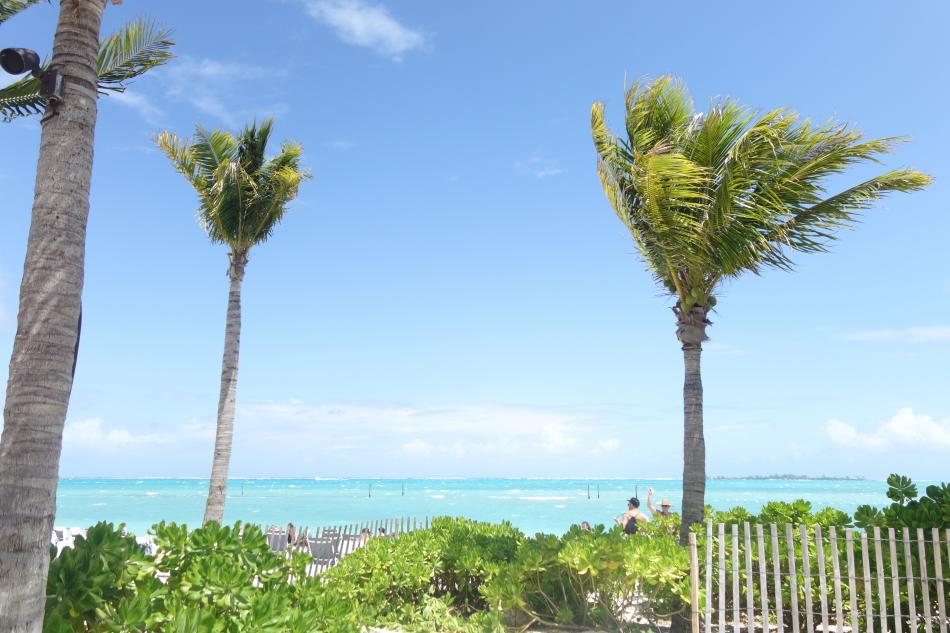 Baha Mar has a private dock that you can walk out on to enjoy the view. It's also where you'd park your boat if you have one (in my dreams) and where many of the excursions take off from.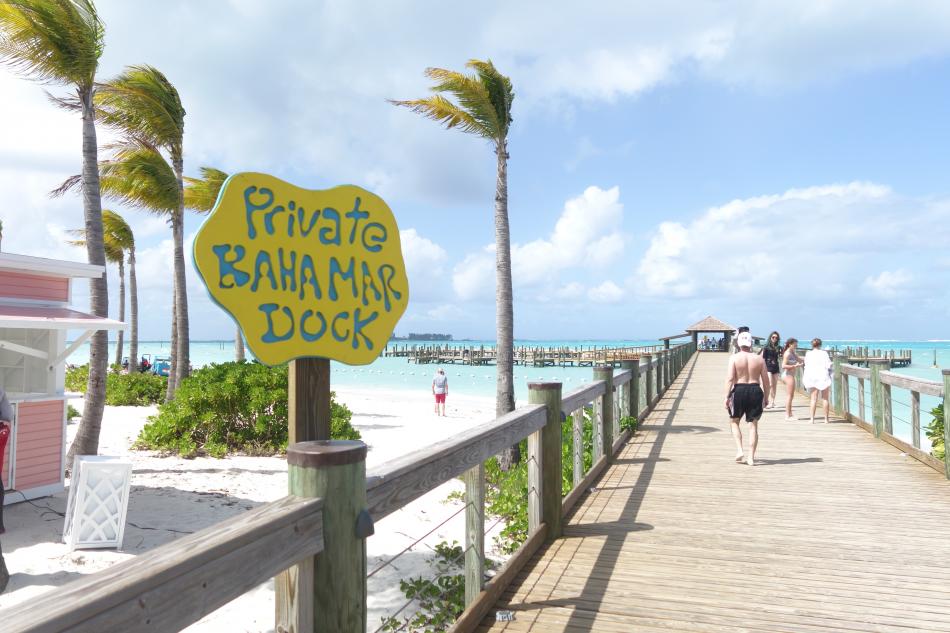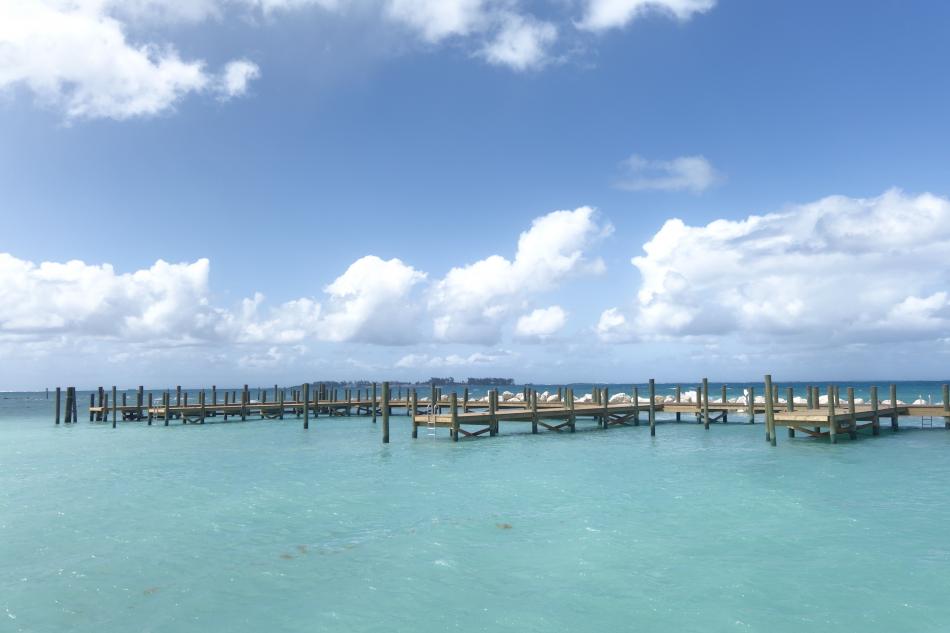 When we walked out to the end, we discovered clusters of Adirondack chairs that are open to guests. It's a wonderful place to sit, relax, and take in the view.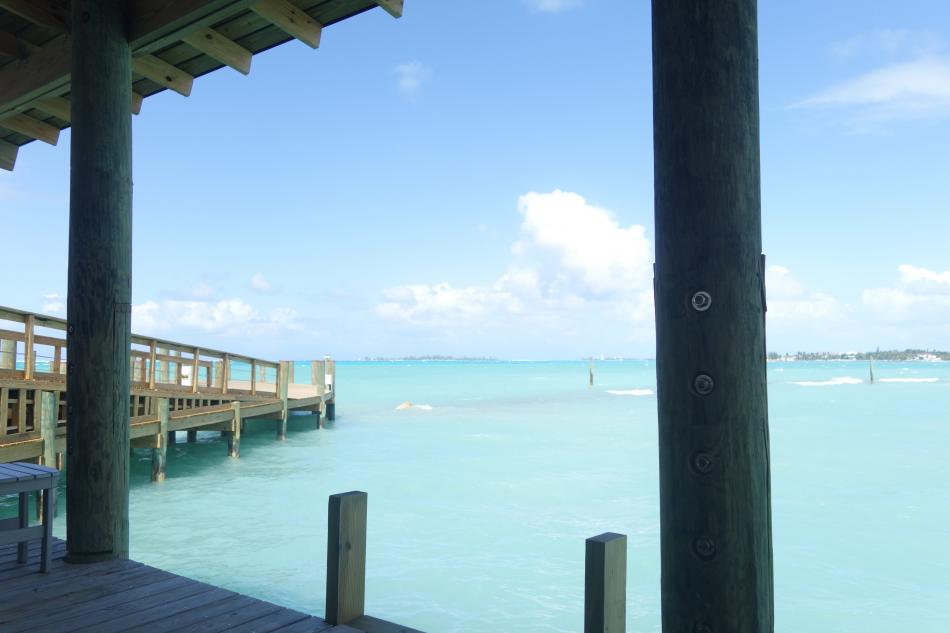 From there, if you turn around to face the shore, you can see the entire resort.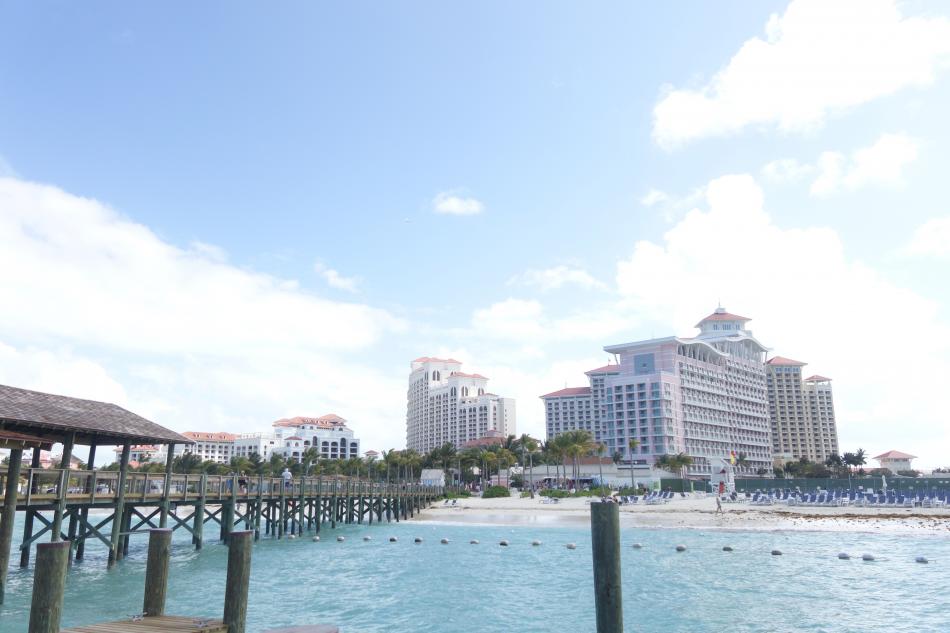 Back on land, as you stroll along the boardwalk, you'll eventually reach Flamingo Cay, Baha Mar's flamingo sanctuary. Twice per day the flamingos go out on parade, which the kids go nuts for.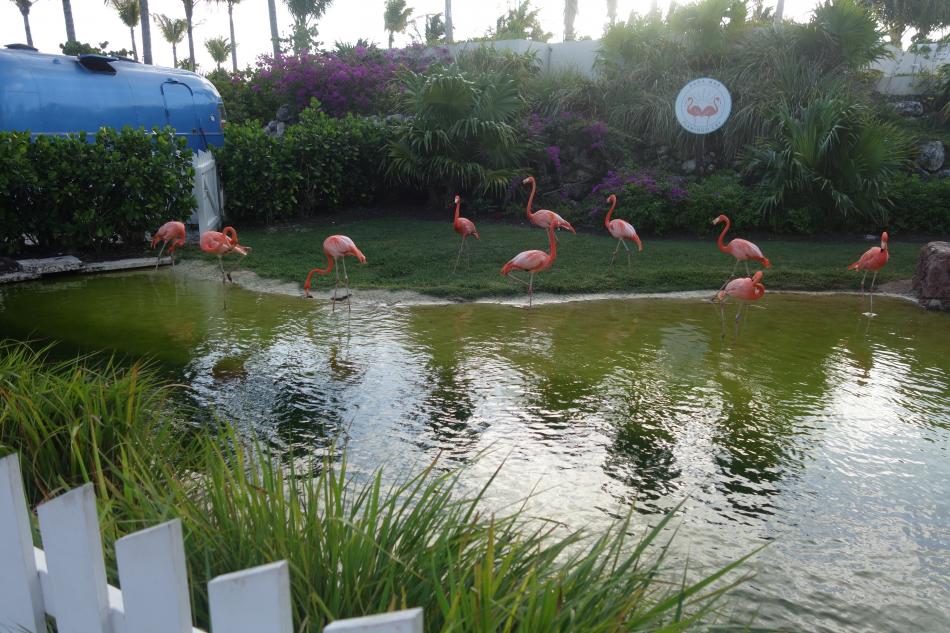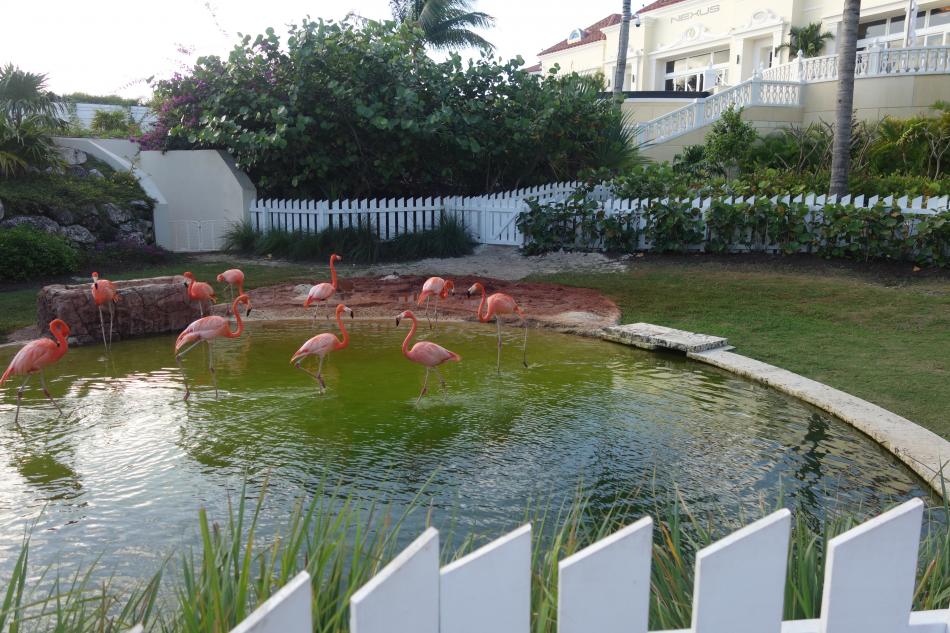 Just beyond Flamingo Cay is the Fortune swimming pool. It's lined with palm trees, providing ample shade.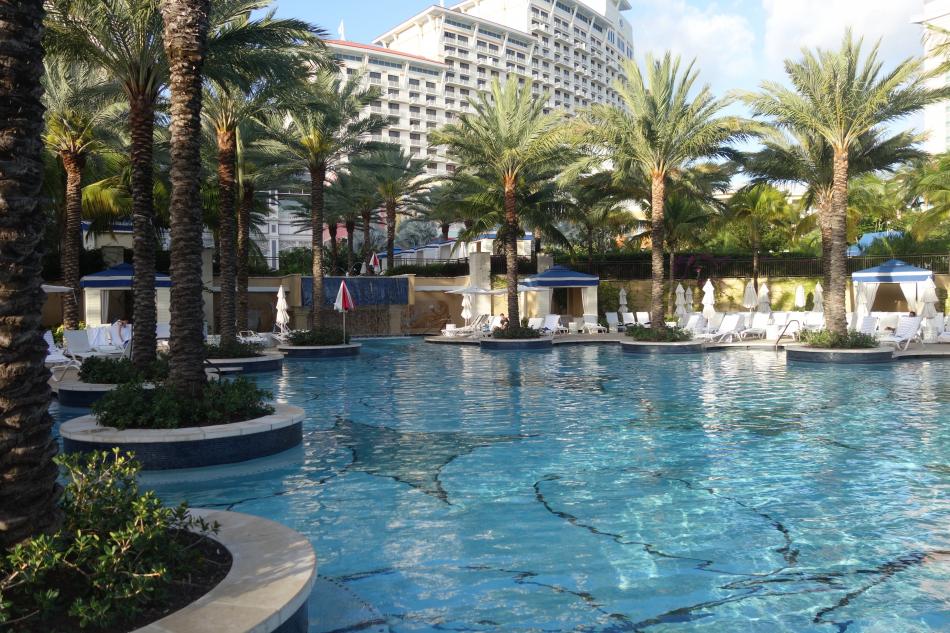 It also has a swim-up bar, a quintessential feature of any tropical resort.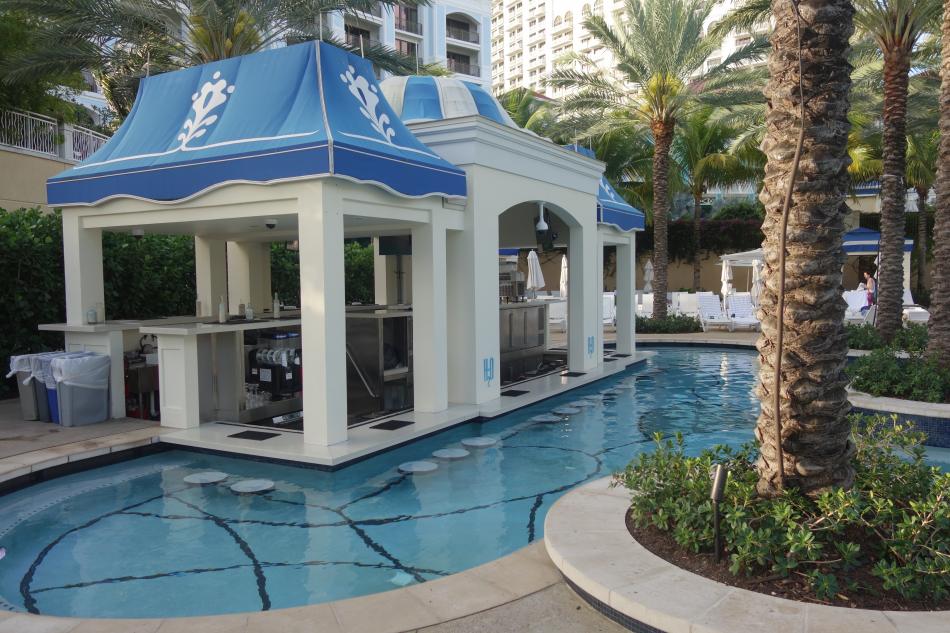 Just a little bit further up is the Reflections pool, which has has a very palatial feel. 
In total, Baha Mar has ten swimming pools. Even if you were to stay for a full week, that wouldn't be enough time to try all of them! 
When you're ready to come inside, wash off the sand, and get ready for an evening out, your first stop should be the Sky Bar at the SLS. It's on the twentieth floor of the hotel. It even has its own private elevator that goes straight to the top. 
When you exit the elevator and step onto the roof deck, this is what you see.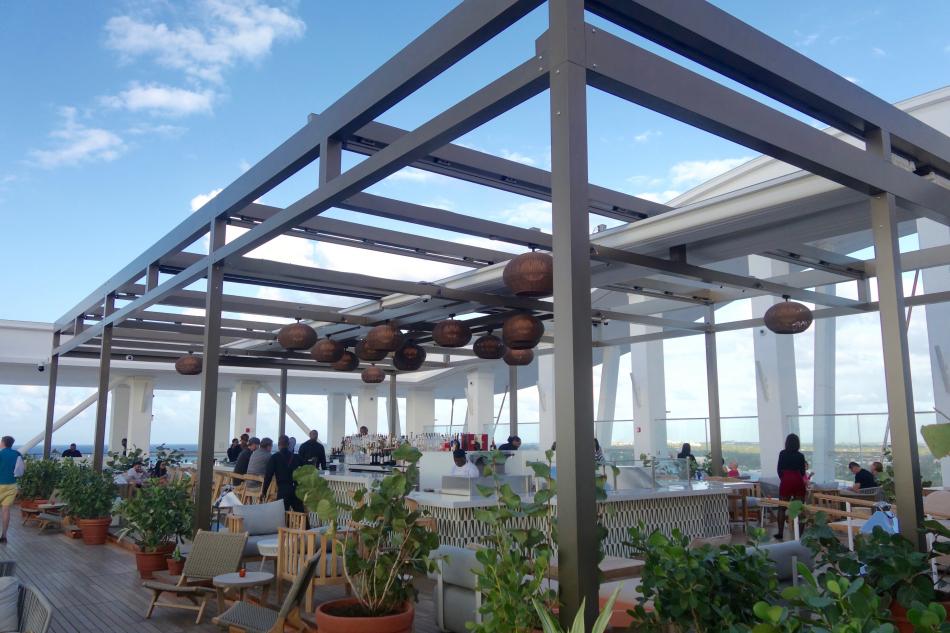 There are tables all along the edge, making it even easier to take in the million-dollar views.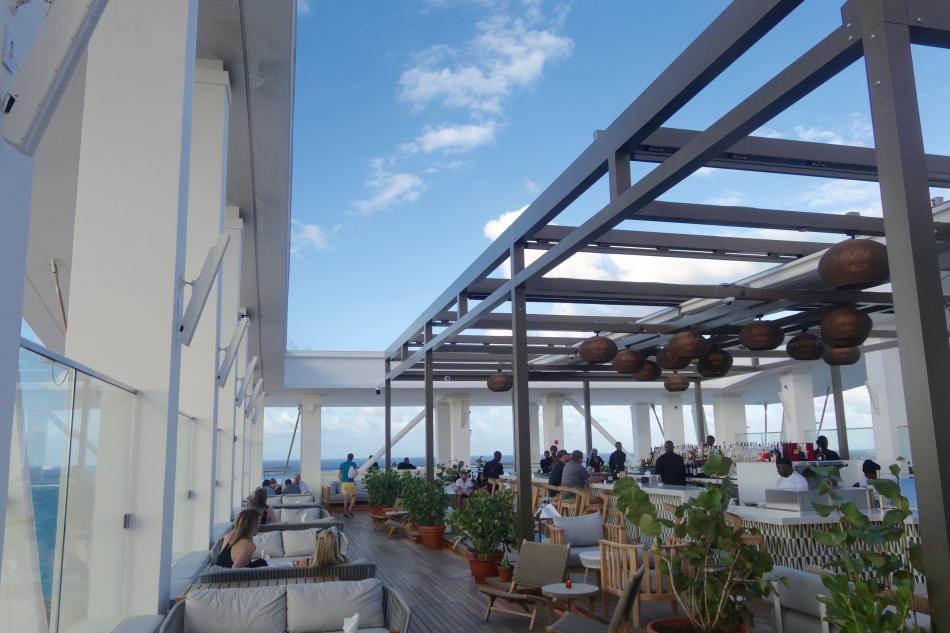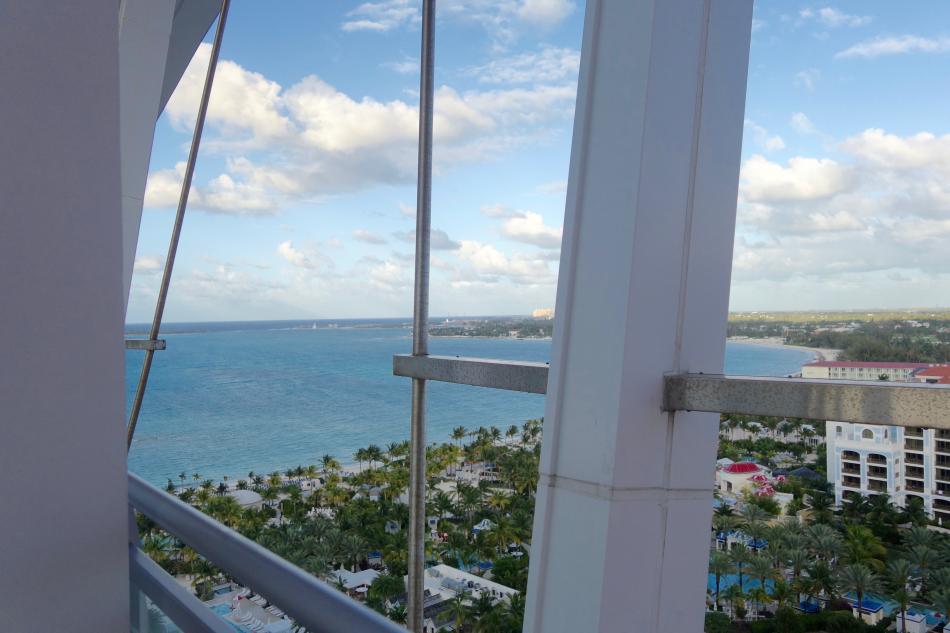 All of the furniture at Sky Bar is stunning. Stephanie commented, "It looks like this entire place was furnished by West Elm."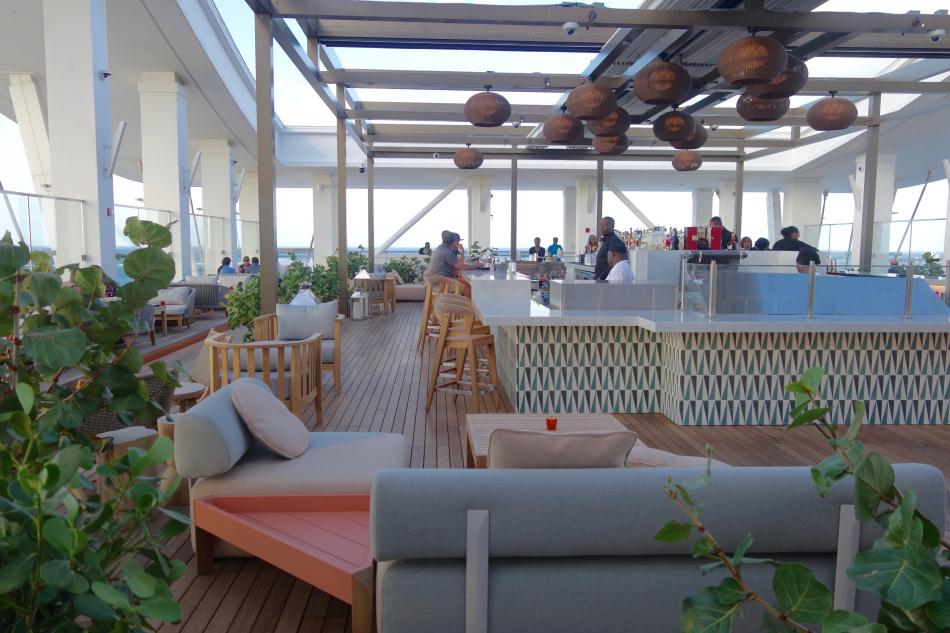 Sky Bar opens at 5:00pm each afternoon. It's an ideal place to order a cocktail and watch the sun go down. We definitely got the sense that it transitions into more of a club-like vibe later in the evening, but were in bed long before that switch happened. 
On our last night, we made a very fun discovery. We had dinner at the opposite end of the resort, and rather than walk back through the casino, we decided to do the boardwalk along the beach instead. That's when we learned that the dock lights up at night!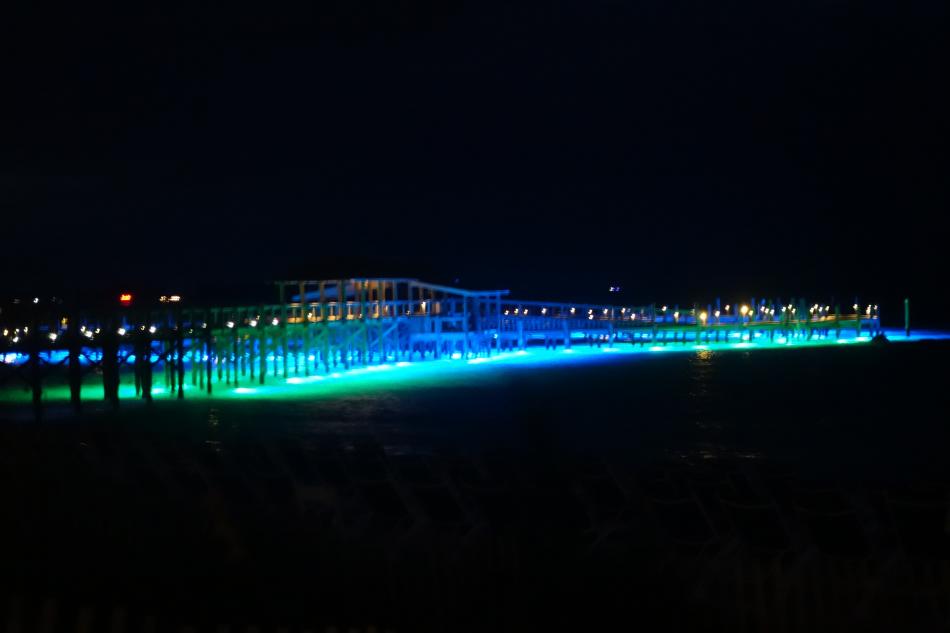 There were so many incredible things about staying at Baha Mar, but there were also some things we uncovered that were disappointing. Sharing below some tips that might be helpful if you are considering booking a trip. 
The good: 
The complimentary shuttle from the airport to the resort is an awesome perk and really starts your vacation off on the right foot (they also take you back when it's time to fly home) 
It's only a ten-minute ride from the airport to the resort 
The rooms at the SLS are spacious, and the beds are so comfortable you won't want to leave 
There are so many swimming pools - find that one that best suits your vibe and wake up early to claim lounge chairs (most people start putting stuff down between 7:45am - 8:15am) 
The beachfront is stunning - there are always open chairs 
The private dock is beautiful - make time to sit in the Adirondack chairs (you could even bring your book!) 
I don't have children, but if I did, there are so many activities for kids 
Most of the dinner restaurants at the resort are on Open Table, book as far out as you can to ensure you get a table 
Baha Mar is a cashless resort, so all you have to do is give your name and room number wherever you go, it all gets added to your tab, and you settle up when you check out 
The bad:
If you stay at the SLS, beware of the bathroom setup, there is zero privacy 
If you're looking for an adults-only, quiet location, Baha Mar is not the place - I would say over 50% of the guests have children under ten years old 
The food at all of the lunch spots takes a very long time - prepare to wait at least twenty minutes before your order is ready 
As I mentioned above, many of the restaurants book up weeks in advance, so it's extremely difficult to just walk in 
Many of the restaurants claimed to provide vegetarian and gluten-free options, but when we'd try to order those menu items, they were often sold out or just unavailable that day 
We received a lot of attitude from restaurant hosts / hostesses, as well as the concierge. Though things are busy, there was no excuse for their poor customer service and snippy tone 
I'm going to be sharing much more about our trip over the next few days. If you have any questions at all, or are actively planning a trip to Baha Mar, please leave a comment or email me directly at molly(at)popbopshopblog(dot)com. Happy to share more details about anything.