I can't think of a better way to spend the first Sunday of the new year, than gathering with friends to watch the Golden Globe Awards. The Globes are the first of the three big shows, followed by the Screen Actor's Guild Awards and the Oscars.
This year the show was earlier than ever (January 6), but provided a much-needed distraction the night before the first full work week of 2019. 
As I have since graduating college, I invited a group of gal pals over to mercilessly judge the red carpet fashions and watch the trophies be handed out on stage. I spent the majority of the day on Sunday running errands and then setting up for the viewing party. 
When decorating for these occasions, I like to put a little something on the front door, so my guests feel excited right as they walk up.
This "Now Showing" sign was actually part of a photo booth props set, but I cut off the thin wooden handle. 
In the entryway, I arranged white roses in one of my favorite vases. This tall, polka dot vessel is Kate Spade, and I've loved it since the first time I laid eyes on it. It's simple, but immediately festive. 
I also set out a tray of bubbly. How cute is the Chloe label? It looks like it's wearing a tuxedo. 
In the living room, I lined the tray on my ottoman with gold glitter coasters. 
For my birthday this year, my cousin had these custom napkins made for me. The font is the most beautiful, saturated raspberry color. 
To put the finishing touch on the tray, I added a few more roses in a low, round vase. Pro tip: always cut your flowers to fit the exact height of the vase. It may take longer, but it looks much more sophisticated. 
My white rose garden extended to the fireplace mantel as well. 
The dining room received a complete transformation. My country wood table was covered with a black, silver and gold table cloth. 
The flowers are flanked by my grandma's crystal candlesticks. I inherited these when she sold her place in Jamaica Plain a year ago. 
In the center, I couldn't get enough of these pink mini roses. This gold vase is from the Crompton Collective in Worcester, MA, one of my favorite places to treasure hunt.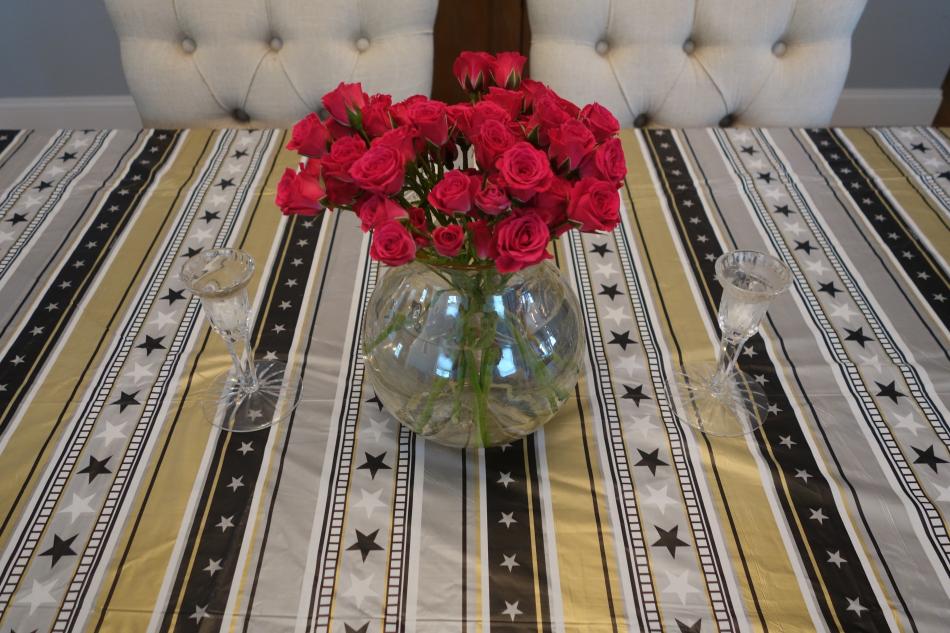 On the sideboard, I set up a little hydration station - water and wine - the two essentials. 
How fun are these gold confetti paper cups? 
I have been using this serving tray for years. The gold really pops. 
Lastly, I jazzed up the bathroom, starting with this VIP entrance sign by the door. 
I went with red accents, which really stood out against the neutral countertop. 
I liked to put stones in the base of the sink, just like a spa. 
Once the girls arrived, it was time to dig into some food. I found these paper plates months ago and I couldn't wait to use them. If my personality were a paper good, it would be these plates. 
We had a potpourri of crackers, cheeses and spreads. 
These spreads from L'Epicurien are decadent and delicious. I discovered the brand at my favorite shop, Greentail Table in Newton, MA. 
We found the fig spread went amazingly well with the cranberry crackers and some brie. 
While we were watching the red carpet, my friend was in the kitchen making us parmesan cheese bowls. Yes, you read that correctly. 
We used the bowls as the base of our DIY salad bar. 
Here is the finished product! 
About an hour later, it was time for dessert. We replaced the salad bar with an ice cream sundae bar. 
There were three kinds of Brigham's ice cream: vanilla, coffee and peppermint stick. 
For toppings, we had hot fudge, caramel sauce, whipped cream, chocolate chips, chocolate sprinkles, walnuts and mini marshmallows. 
Here's a look at my sundae: peppermint stick ice cream, hot fudge, mini marshmallows and a generous swirl of Reddi Wip.
It was a great night of rooting for our favorites, and catching up during commercial breaks. 
Did you watch on Sunday night?