If there's one thing the state of Connecticut does well, it's brunch. I recently drove down to West Hartford, CT to meet up with my best friends from college. On our first morning in town we had an epic brunch at Pond House Cafe (two words: breakfast nachos) and on our second day, we were blown away by Butchers & Bakers in Farmington. 
If the name seems familiar, it's because it sounds awfully similar to a brunch spot I've written about here before, Farmers Fishers Bakers in Washington D.C. Warning: clicking on that post will cause immediate cinnamon bun envy. 
Butchers & Bakers is in a totally unassuming office park. There is a giant parking lot (score!) making it an easy place for big group gatherings. 
The dining room gets tons of natural light. 
We were lucky to be seated in a booth right against those huge windows. True to the restaurant's name, each table is draped in a piece of butcher paper. 
Any brunch menu that begins with a section called "From the bakery" is A-OK by me. 
We decided to start with drinks. When we walked in, I noticed the build-your-own Bloody Mary bar and there was no way I wasn't getting in on that. Another friend felt the same, so the waitress asked us what kind of rim we wanted for our Bloodys and she'd come back with our glasses. I chose the Cajun spice (on the left) and my friend went with the whiskey sugar (on the right). 
Yes, people, that is all vodka (with a little ice). 
The Bloody Mary bar had two types of tomato bases - original and spicy. I went for the spicy. 
There were so many choices for garnishes - shrimp, bacon, olives, peppers, pickled veggies, horseradish, celery stalks and more. 
Here are our finished products! 
I was quite pleased with my custom creation. The tomato base had a great kick to it, I had three wonderfully briny olives and a few pepperocinis, which I love. My friend topped hers with a slice of bacon and she said, "This has great flavor and I went for a super crispy piece!" 
While were making our Bloody Marys, two of the girls received their cocktails - a bellini and a white grapefruit mimosa. 
The first item to arrive on the table was one we'd ordered to share, Butchers & Bakers' signature cinnamon roll. Though we'd seen a few photos on Yelp, nothing could prepare us for the size of this thing! 
This pastry was truly enormous. It was the size of an entire pie. We cut it into six slices and as we bit into our pieces, we were shocked to discover the roll itself was light and fluffy. Each bite had a nice crunch from pecans. The sticky glaze was incredible. It was sweet, without being sickeningly so. 
We also shared the coal-fired cauliflower as a starter. The portion allowed each of us to have exactly one floret. The pesto on the plate was fresh and very herbaceous. 
For the main event, two of the girls got the eggs benedict. They were served on house made English muffins, with house made sausage, poached eggs and Hollandaise sauce. 
Both ladies agreed that the eggs were cooked perfectly. See below for additional evidence! 
The home made sausage got high marks, described as, "Delicious, great flavor and not too fatty." The only complaint? Not enough lemon flavor in the Hollandaise. 
Across the table, a friend was struggling to take bites of the gigantic egg sandwich. Pressed between two pieces of foccacia is fried mortadella, house made salami, sunny side up eggs, melted provolone cheese and pickled pepper relish.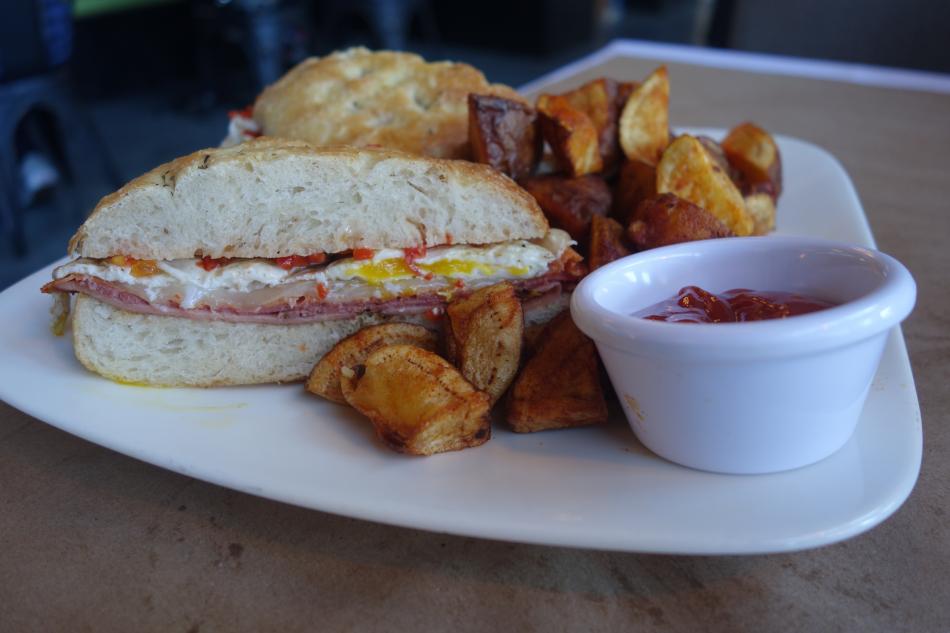 After the first half had been consumed, she said, "This sandwich is amazing. It tastes like an Italian sub with an egg on it. It's messy to eat, so definitely don't order this on a first date." 
I decided to make my own omelette with mozzarella cheese, spinach and caramelized onions. There was so much cheese in the omelette, you could taste it in every forkful. 
The omelette came with home fries, which were expertly crisped and dusted with paprika. I also got a home made English muffin, which gave me the chance to try the orange butter and blueberry jam they had brought for the table.
As you know, I'm not usually a fruit gal, especially citrus, but I really enjoyed the orange butter. 
Throughout the brunch, all of us continued commenting on how much we loved the space, the decor, our waitress, the drinks, the food - hell, I think we'd all drive to Farmington just for the chance to eat this meal again.