How is it already August? I feel like 2017 has been in fast forward. I am excited to share with you the progress I've been making towards my 2017 New Year's resolutions. I have been tracking my goals here on the blog for the last two years and there were three resolutions from my 2016 list that I wanted to carry over into this year:
Spend at least one weeknight at home every week - Last year I learned that I feel so much more relaxed and rested if I commit to staying in one weeknight every week. Work can be draining and having that one night per week where I am not rushing to leave the office can be just the breather that I need. So far, 32 weeks into the year, I have kept this resolution for 26 weeks. In 2016 I only managed to stick to this resolution for 35 out of 52 weeks, so I am already feeling on track to beat my previous attempt! 
Use my gift cards - My generous family and friends often give me gift cards for special occasions - my birthday, holidays, work milestones, etc. The only problem is, I stink at remembering to use them. In 2016 I resolved to concentrate on swiping the cards. I had 28 in my purse and I used 14. This year I've continued to prioritize this goal and I've used nine of the remaining cards. Just this past weekend I used a Sephora card to treat myself to a travel size bottle of Roses by Chloe perfume. It smells heavenly! 
Attend the Revere Sand Sculpting Festival - After attending the festival for the first time last year (read all about it here) I resolved to make it an annual tradition. Sadly, I wasn't able to go this year. That same weekend my parents, sister and brother-in-law were in town and their visit was totally packed with family stuff. As soon as they announce the 2018 festival date, I'll be writing it down. 
Now, onto the progress report for this year's list! 
1. Read a Queen Elizabeth II biography
Status: 350 pages in. During my last resolutions checkup in April, I shared that I was about 100 pages into my Queen Elizabeth book, which I somehow failed to noticed on Amazon was 530 pages long and has teeny tiny font. I have to be honest with you, the book is incredibly boring. I was hoping it would read like a historical fiction novel, but instead it feels more like a high school textbook. 
Because the book has been boring me to tears, I've been taking breaks to read other things - Superficial by Andy Cohen, Startup by Doree Shafrir and This Is Just My Face by Gabourey Sidibe.
Because I am not a quitter, I am going to keep chipping away until I finally reach the end! 
2. See a movie in the theater once a month
Status: Strong performance. For this big screen resolution I had a perfect record for January, February and March. I had planned to see the Chris Evans movie Gifted in April, but I never made it. Then the month of May went by in a blink and all of a sudden I had missed two months in a row! Here is where I stand now:
Any movies coming up you think I should add to my list? I'd still really like to see a movie outdoors at the Lawn on D in the Seaport. 
3. Up my breakfast game
Status: Chowing down! Of all of my resolutions, this is the one I feel I'm making the best, most steady progress on. At the start of the year I identified five breakfast places I wanted to visit (Linda's Donuts, Praline, Whole Heart Provisions, Kirkland Tap and Trotter and Koko Bakery) and set a goal to return to two of my old favorites, Bagelsaurus and The Breakfast Club. So far, I've tried three of the five new spots and I've already made it to both of the old favorites. 
In June I tried Whole Heart Provisions and I was blown away. Their vegetarian and vegan food is exceptional.
I highly recommend the matcha pancakes at brunch, which I have been thinking about since I left.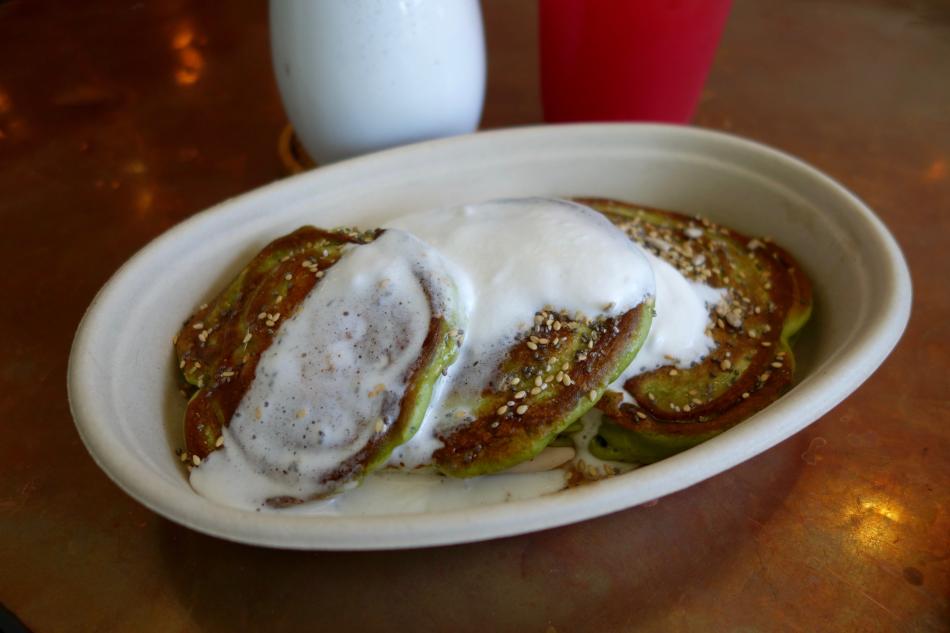 Between now and December 31st I need to hit Praline and Kirkland Tap and Trotter. If you'd like to join for either breakfast adventure, leave a comment below! 
4. Spend an afternoon at Eataly Boston 
Status: Unscheduled. I have been wanting to experience Eataly Boston since it first opened and I have to admit, I haven't even tried to go. It's pretty rare for me to be in Back Bay these days, so I need to sit down, pick a date and put on some elastic waist pants! 
The cacio e pepe I had at Eataly New York is a dish I still dream about.
Here's hoping the Boston location lives up to the memory.
5. Explore the Boston Public Market
Status: Success and obsessed! One of my closest friends moved to New York City in July, but before leaving Boston she wanted to tour the Boston Public Market. Since it was also one of my resolutions, we decided to combine our goal and explore together! 
We enjoyed a wine tasting at Massachusetts Farm Winery and Growers. 
We shared a delicious dinner from Inna's Kitchen, including a dish called shakalatkes (shakshuka + latkes). Every time I tell someone about that meal, I can't help but want to shout, "Boom shakalaka!" 
Before heading out we indulged in the creamiest, most decadent ice cream from Crescent Ridge. 
Here is the blog post that recaps our entire visit. If I lived closer, I would be at the Boston Public Market all the time. If you have friends visiting from out of town, this is such a fun way to share a meal. 
6. Attend the Hull Harbor Illumination
Status: Plans foiled. For the last several years, I have wanted to attend the Hull Harbor Illumination. My dad grew up in Hull and our family still stays in his childhood home on weekends to enjoy Nantasket Beach. Though I am there often, the last few years I always seemed to be out of town the weekend of the Illumination. 
This year, I made this formal resolution, I put the date on my calendar in January and I could not wait to finally experience it. 
Well, the universe had other plans. That morning Scout (my pup) was very sick and we wound up spending two hours at the vet. He was in no condition for a road trip and I didn't want to leave him behind knowing he was in so much pain. So after a very tearful call to my mom, I realized there was just no way I was making it. 
My cousins went and very sweetly texted me photos and "We wish you were here" messages. As my mom kept reminding me, "There's always next year." 
7. Take more New England road trips 
Status: Actively road trippin'. One of the things I was most excited about at the start of 2017 was that I didn't have as many weddings this year, so I was hopeful I could use my summer and fall weekends to take more New England road trips. 
In July, my family spent four days in Camden, Maine. Prior to that trip I had only gone as far north as Bath, Maine, so I was looking forward to exploring a completely new place. Camden is super beautiful and we had a lunch with a great view at Camden Deli, right in the center of town. 
Two weeks ago I went with a friend to Portsmouth, NH, which I just adore. The seaside town is so quaint and charming. We started with brunch at Street, followed by hours of shopping. We hit Stonewall Kitchen, Kilwins, Attrezzi, Le Roux, Pickwick's Mercantile (and the new Lady Pickwick's), Gus & Ruby Letterpress, Moonshine, Off Piste, Nahcotta and more. I am dying to go back and dine at Oar House (right on the water), Cava and Black Trumpet. I need another full weekend up there just to have enough meals to try all these places! 
I am still hoping to make it to Hadley, MA, Newport, RI and Mystic, CT before the year is over! 
8. See the Backstreet Boys concert in Las Vegas
Status: Complete! Back in March I went to Las Vegas for the Backstreet Boys concert and it was epic. All the songs of my pre-teen and teenage years were performed to the same choreography from the original music videos! Check out the April resolutions checkup for all the details of the show and our weekend in Sin City.
9. Make my house smarter 
Status: Higher IQ. At this start of this year, I was determined to make two upgrades in my home - a smart TV and the Nest thermostat. I have had the smart TV since the end of March and I am still obsessed with it. The picture quality is gorgeous and being able to watch Netflix and Amazon Prime on a big screen (instead of my 13 inch laptop) feels like a total luxury. I can't wait to host the girls for the Emmy Awards in September and watch on this new screen! 
Sadly, my conversion to the Nest hasn't been as smooth. My house has some "unusual" wiring and it's going to take some rearranging to get things hooked up safely. Thankfully, in the summer months I don't have my heat on, so I still have time to get this resolved before the winter. 
10. Organize my hostess / party supplies
Status: Planning for fall. As much as I want to organize my kitchen cabinets (which are embarrassingly packed to the gills), I can't bring myself to do it when it's nice out and I could be at the pool or the beach. I have decided I am going to save the rest of this project for the fall. I have done a pretty solid job of purging and donating, so once it gets a bit cooler outside and I don't mind spending a Saturday or Sunday indoors, I will really get cracking.
I started a Pinterest board with organization hacks. If that's something you are trying to tackle too, check it out. 
11. Create a "Treats of Boston" holiday gift guide
Status: In progress! Two years ago a reader requested that one of my holiday gift guides be a list of quintessential Boston food items that can be shipped out of state. I absolutely loved that idea and I am excited to execute it this holiday season. There were a ton of radio ads last month about "Christmas in July" sales, which got me thinking, this gift guide is just a few months away! 
I have been researching since January and I have a solid list started, but if you are originally from Boston and have moved away, please let me know what you miss and I will find out if they ship! 
12. Send a Scout holiday card 
Status: Still looking for the perfect photo. I am determined to send a Scout photo card this holiday season! I have a few very strong contenders from afternoons where he was playing in the snow and despite it being three months since my last update, I still think those original winter photos are the strongest.
Just because I don't plan to use any of my recent photos of Scout for the card doesn't mean you should be robbed of seeing them, right? Below are two of my favorites from the last few weeks. 
And there you have it. We are eight months into 2017 and here is the current tally: 
2 resolutions complete
#5 Explore the Boston Public Market
#8 See the Backstreet Boys concert in Las Vegas
8 resolutions in progress
#1 Read a Queen Elizabeth II biography
#2 See a movie in the theater once a month
#3 Up my breakfast game 
#7 Take more New England road trips
#9 Make my house smarter 
#10 Organize my hostess / party supplies 
#11 Create a "Treats of Boston" holiday gift guide
#12 Send a Scout holiday card 
2 resolutions still to be tackled (or missed)
#4 Spend an afternoon at Eataly Boston
#6 Attend the Hull Harbor Illumination
Minus the unexpected snafu with the Hull Harbor Illumination, I am feeling really confident about crossing off the rest of these resolutions.
Did you make any resolutions for this year? How are you feeling about your 2017 goals? 
*August calendar image and Hull Harbor Illumination image. All other photography by Molly Galler.