Today marks exactly one year since Scout came into my life. I still remember exactly where I was and what I was doing the first time I saw him. It was a Thursday afternoon at work and we had just finished throwing a bridal shower for a coworker. A few of us were still in the conference room chatting and cleaning up when I decided to check to see if Northeast Animal Shelter had listed any new dogs since the last time I checked (which was . . . an hour before). I refreshed the page and this face was staring back at me: 
How can you say no to that smiling face?
The girls crowded around my laptop and we read all about Scout. One of my coworkers grabbed my cell phone and dialed the shelter to ask if Scout was still there. I knew I couldn't make it to Salem, MA before they closed, so that entire night I had a pit in my stomach wondering if someone would get to him before I could.
The next morning I called the shelter when it opened at 10:00am and they confirmed Scout was still there. I called again at 12:00pm and then at 2:00pm until finally my boss said, "Just go already!" 
I met Scout within minutes of arriving and this is going to sound cheesy, but I just knew he was my dog. After lots of time with him in the playroom and in the shelter's backyard, we signed the papers and back to Watertown we went. 
The second day Scout was home with me I took this picture. To this day it's still my all-time favorite because even though he was in a totally new place and had so much to adjust to, he was still happy as a clam.
That first week I was a nervous wreck! I was terrified to leave Scout alone, even just to run to the grocery store. I got him on a Friday and that entire next week I worked from home. When Saturday came around I had planned to go to the South End Garden Tour, which is a 3-4 hour affair. My friend convinced me that we should still go and that Scout would be fine. I am sure he was, but I was clock watching like crazy, counting the minutes until I could get back to him. 
Over the course of that first month we started to settle into a routine. Every morning we'd go on super long walks and I started to really fall in love with my neighborhood.
We began meeting other neighbors with dogs and neighbors who are dog lovers. All of a sudden we were part of a true community. 
In those early days I learned that Scout loves nothing more than tug of war. In fact, he plays so hard that eventually he falls asleep with the toy on his face or in his paws. It's so cute it crushes me! 
I also discovered that he sometimes falls asleep in such a way that he looks like a baby lamb or a bear cub. I mean. I just can't. 
He loves car trips and some of his biggest smiles have been when he's riding in the backseat. 
Over these past 12 months I've also come to understand some things Scout hates. Number one on the list, being forced to take selfies with me. Evidence below.
He also detests his winter coat.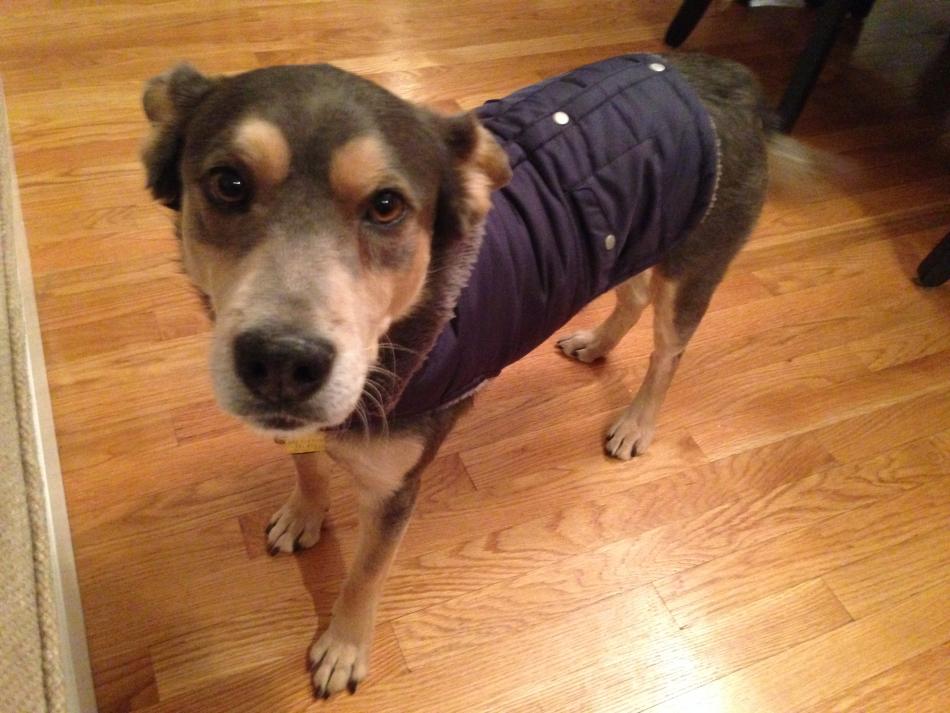 And he gives me the stink eye whenever I try to gently remove toys from under his head so he can sleep normally. 
He has all kinds of weird quirks (like barking wildly at pickup trucks), but then he does something cute like begging for a treat and my heart just melts. 
Reaching the one year mark feels especially significant because Scout was sick for a lot of our first year together. I didn't talk about it much here on the blog (it was kind of a downer) but Scout suffered from stomach issues and recurring hot spots that kept rearing their ugly heads every 25-30 days. He spent a good chunk of September - January like this: 
During the time his stomach was bothering him, I found myself cooking chicken and rice every day for nearly three months. After being a vegetarian for 19 years, I was a bit out of my element (and rather grossed out). My mom said, "This is true love." 
Thanks to the caring and dedicated staff at Fresh Pond Animal Hospital, Scout is now in perfect health. We just had his annual check up and the doctor is optimistic that the treatment plan is working and will continue to do so. 
The same weekend we celebrated 11 months together I received this Mother's Day card in the mail. It had no return address and no matter how hard I tried to match the handwriting to other notes and letters I've received, I still can't figure out who sent it. After a year that included countless vet visits, anxiety around who would care for Scout when I had to travel and all the times I felt like I was making a million mistakes, this card reminded me what it's all about. 
I feel so lucky to have Scout in my life. He is the happiest, sweetest, silliest boy and he brightens my day every minute that I'm with him. He's helped me fall in love with Watertown (it only took 4 years!), sparked me spending way more time outside and being much more active, introduced me to amazing neighbors who are now true friends and caused me to grow as a person in so many ways. 
I want to close this post by saying thank you to all of the people who have been a part of a Scout's life over the past 365 days. I never really understood the expression "it takes a village" until I got a dog. I had so much support and help from friends, neighbors and coworkers and I am eternally grateful. 
As we begin our second year together I am excited to keep exploring all the dog-friendly places in and around Boston. If you ever want to join us on an adventure or have a suggestion for a great hike, park or patio, just leave a note in the comments below.